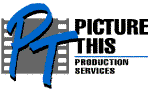 December 16, 1999



Dear Jimi,
Ryan Peterson has been an inspiration to all of us here at Picture This Production Services. His huge smile and vibrant laughter put smiles on our faces. Ryan's internship went well, he is always eager and willing to jump right into any project asked of him, including being a PA on local shoots.

On November 22, 1999, Ryan joined our staff as a full-time employee and manager of our sound stage. He fits right into this industry and everyone likes him.
Thank you for sending Ryan to us.
Pat Harman
Office Manager



2223 N.E. Oregon St.
Portland, OR 97232
(503) 235-3456